Running a warehouse is tough work. Not only do you need to keep up with the daily production, picking, packing and shipping requirements for your company, but you also have to develop a way for everyone to work well together and respect one another as they move through their days. And all of it has to be done with respect for the product, too, so you don't incur any damages or lost time.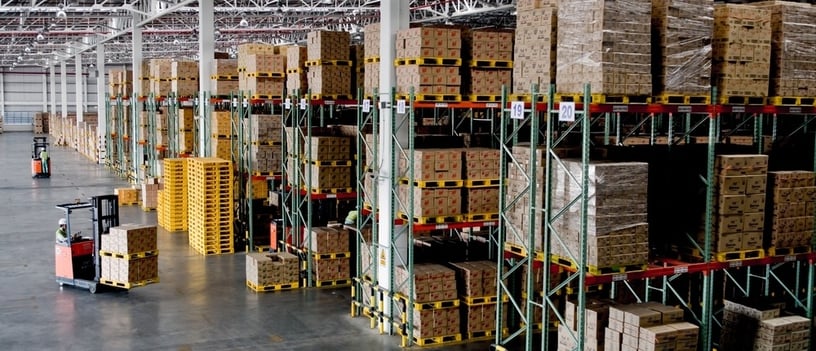 This post will cover some of the etiquette rules you can begin to implement in your warehouse today. We won't dial down to the "say please" level of rule making. Instead, these etiquette ideas apply to the bigger picture. They'll help you ensure repairs are needed less often, people are happier, and your warehouse stays on schedule.
Warehouse Etiquette Starts Here
Let's begin with rule number one of any healthy, safe work environment.
Keep it Clean
This is everything. Making it work is about promoting an attitude of general housekeeping, so you don't end up with a mess that's piled up over time. Your employees need to put items back in their designated spots, pick up that little piece of trash they saw on the floor (even if they didn't put it there!) and keep empty boxes off the shelf and broken down to avoid inefficiencies in picking.
The first thing anyone sees about a warehouse is how clean it is. Part of implementing this rule is convincing an employee to treat the warehouse like their house. We've got a brilliant suggestion for how to make this happen. But we'll come back to that later.
Aim for Accuracy
The accuracy and accountability provided by a checklist or photographs are perhaps some of the strongest adhesives in the warehouse structure. Aiming for accuracy helps you keep it all together.
For pick ticket and shipment accuracy, use a daily log and take photos of every shipment, which you can match to that log. Accuracy and attention to detail in those efforts will help you and your team remain accountable for the good work you've all done, and recuse them of errors which didn't occur at the warehouse.
Another area you can aim for accuracy: your daily equipment checklists. Make sure everything that's supposed to be on Shelf A213 is actually there. Mark it down if it isn't, so you can solve for this.
Accuracy is an etiquette issue because if every one of your employees is attempting to "get it right," so to speak, they'll each be directly responsible for one another's success, which can create a strong team and a lot of respect.
Talk it Out
When you try to change things, you'll get a lot of push back, because a lot of people don't want change. Getting your team on board is the biggest challenge you'll run into. But if you do it right, they'll see that things are better when these changes are implemented.
The only way to politely institute change is to communicate well. To start out, you could run a 10 to 15 minute meeting with each group, every morning. Have group chats about what you can all do better. Go over your daily checklists, and come up with new ideas as a team.
Listen to your team. They do the job out there every day, so you just want to guide. Getting them to talk about how they can do things more efficiently means they're setting their own rules. Not every idea will work, and you might fail. But this is how you do things better. (Listening and guiding is our brilliant tip for getting people to treat the warehouse like their house. If they're involved and contributing, there will be more ownership and less resistance.)
Also encourage the team to talk about issues on their own, outside of these meetings. That is a point of etiquette that can't be overlooked: appropriate, polite communication about your concerns — which brings us to the next rule.
Stay Open
Being open minded at work is a generally sound practice. Because many warehouses employ large numbers of employees — including temp workers — you might find that all types of personalities from all types of cultures and backgrounds work together closely, making open mindedness necessary for success.
Being open minded isn't exactly an etiquette rule. But treating others with respect is, and being open minded can facilitate that.
Safety is the Sixth S
You're likely familiar with the "Five S" program. Adopting the "Safety is the sixth S" rule means your employees will always keep safety top of mind. That can impact daily manners, such as letting your coworker know when you've taken something from it's proper place, or politely communicating that someone is violating an important safety rule.
The aforementioned checklists can ensure this rule is always enacted. If every group leader completes important safety checks of machinery and trucks (seatbelts, back-up lights, warning lights, etc.) and their team members' personal protection equipment (hats, goggles, gloves, etc.), safety becomes second nature.
That said, people are often stuck in old habits. To help everyone develop new habits, maintain your focus on individual involvement in team success. If a mistake happens, you're not trying to point it out. You're trying to correct it. Keep the team involved in working toward getting better.