Maintaining an efficient, safe and organized distribution center is integral to any retailer's success. How can you improve your inbound and outbound order fulfillment process without wasting time or exhausting your resources? To find out, we talked with Sales Account Manager Steve Eggers at Custom Pak, a turnkey supplier.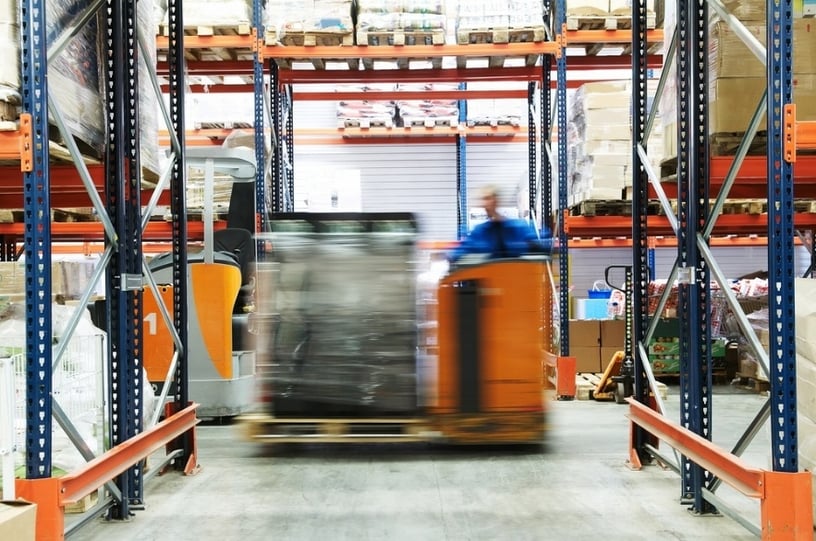 At its manufacturing and distribution center in Clinton, Iowa, Custom Pak's day-to-day order fulfillment entails coordinating around 75 truck-loads of outbound products and hundreds of inbound orders. The company designs and builds the machines and molds that produce blow-molded plastic products for a variety of (large and small) retail enterprises.
As a "turnkey supplier," the company not only helps design and manufacture the equipment needed to create a given business' unique product, but it also stores, fulfills and distributes the product (through a direct manufacturer-to-customer model). That means that all 75 trucks that dock at the warehouse are headed for different cities, stores and companies. Organization, efficiency, flexibility and accuracy are essential components of a successful business plan for Custom Pak. So how exactly do the team members juggle different customer sophistication levels (when it comes to inbound order technology), a vast array of customer needs and drastic seasonal fluctuation in product demand — all while maintaining a "just-in-time" manufacturing schedule?
The first piece of the answer involves smart workforce utilization and effective employee training. During the holiday season, the number of people required to fulfill orders at the Custom Pak distribution facility doubles to meet the influx in product orders. To ensure the company is not overstaffed during lulls and understaffed during peak business months, Custom Pak certifies around 250 people from the manufacturing facility with "level 2 training," which gives them the know-how to work in the distribution warehouse when extra help is needed. By ensuring that orders are being fulfilled by skilled and seasoned workers instead of temps, they can maintain accuracy and efficiency during peak business months.
The second key to success involves flexible workflow and a malleable workspace to accommodate changes in procedure. For example, during peak order seasons, Custom Pak not only flexes more staff into distribution, but also proactively changes its process (and warehouse layout) to accommodate larger orders. Assigning different customer orders to different loading-dock bays allows for "pre-loading" a shipment from stocked inventory in a designated staging area. Changing the amount of warehouse space dedicated to each customer depending on fluctuating product demands helps improve the inbound/outbound process and keep things running efficiently.
If you squeeze your newly fortified workforce into a tight configuration, it can't operate as effectively or safely. To achieve optimal flexibility in your workspace, it's important that your warehouse equipment is capable of being moved and sturdy enough to handle the kind of disturbances that can occur when shuffling things (and people) around. Custom Pak uses protective solutions that can be easily switched or moved between different aisles, racks and docks — to maintain the integrity of its internal infrastructure and keep employees safe, without restricting the flexibility of the space.